First and foremost, I'd like to thank Gail over at My Repurposed Life for featuring my dining room table re-do. I'm honored!
Be sure to check out Gail's other features and weekly link party here: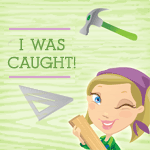 Next up is more creative kid's craftiness by one of my sisters, Holly! She's such a great Mom. She basically does a craft each day with my nieces. The Texas (where they live) heat so kindly lended a hand in making this one happen. For this project, they took a blank canvas and hot glued new crayolas on it upside down. Then, set is out in the heat and watch it work it's magic. Now that's what I call instant art! This one is headed for my nieces gallery art wall at their house.